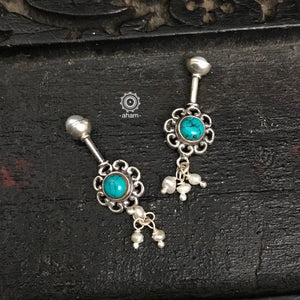 Turquoise Flower Silver Bugadi With Pearls
602222020061
M.R.P. Regular price Rs. 2,500.00 INR Sale
We currently have 2 in stock.
Handcrafted silver flower Bugadi with turquoise stone and hanging pearls.
Please note the dimensions before you buy. 
We do not allow any exchanges on account of size of the bugadi. 

Bugudi in Karnataka.
Bugadi in Maharashtra. 
Koppu in Tamil Nadu. 

Is Worn in the Helix. 
Length

3.3 cms

Width

1.1 cms

Weight

NA

Material

92.5 silver  

Fastening
Please note the closing is a

screw type

and is usually thicker than your regular earring stud.

Care

Spot-Cleaning only.
Store in a separate box.
Keep away from fragrance and water.
Note

Comes as a pair.

The bugadi is extremely small and hand made and hence variation in size will occur even between the same pair. 


We do not allow any exchanges on account of size for the bugadi. please check dimensions properly. incase of any queries please write to us at contact@ahamjewellery.com

Country of Origin

India
An Aham Jewellery Product